Boston Birthday Party DJ Services

&

More!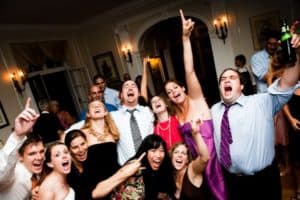 Whether it's a Sweet 16, Quinceanera, Reunion, Graduation, Birthday or Retirement party, we've got everything make your party into an unforgettable celebration! Our extensive music library has over 200,000 songs to keep your guests moving, including  everything from Top 40 to 'Oldies', Classic rock to EDM, Reggaeton, Reggae, Swing/Electro Swing,  Hip Hop, Bachata, Salsa, Cumbia and more!
Having an international/intercultural event? We've performed at hundreds of international events playing everything from Latin, Indian, Korean, Greek, 'African', Persian, Haitian, Assyrian music and more!
Whatever your event, whoever your guests may be, we make sure to have a little something for everyone!
Here's what we bring to the party:
Sound Choice DJ– The most important part of the night! Have peace of mind knowing you have Boston's favorite DJ service, with seasoned pros experienced getting a crowd moving, young & older!
Extensive, all digital library with thousands and thousands of songs, including edited tracks, suitable in a kids/ family-friendly setting giving more freedom to play current favorites for your group!
Top of the line, beat adjustable, all digital Pro DJ systems, properly presented in a flight case.
Top of the line sound system – 2 speaker, professional sound system with all the clarity & bass to fit the size of your party
Our DJ/MCs can announce any special activities and be as interactive on the microphone as your party needs!
'A La Carte' services to add the FUN to every celebration
PhotoBooths – Enclosed or 'Open Air', our booths do it all; OUTRAGEOUS prop packages, pics right away, color or B&W, double prints, social media options, hashtag printing and scrapbooks!
Green Screens – take your guests on an adventure to the Wonders of the World or smack dab in the middle of a magazine cover without ever leaving your party and the pics to prove it!
Uplighting – set JUST the right mood for your party with our uplighting shows that can even move to the beat during dancing!
Dance lighting-from the classic disco ball to full club lighting systems
On site Gaming Stations & Game shows– too much fun to be believed!
Karaoke (two of our thirteen 'Best of Boston' awards were specifically for our karaoke show, including 2015!)
Video Dance Parties-we have everything from Aretha to Beyonce and The Weeknd on video for show. Ask about our famous roving party cam and end of night slide show!
Projectors for presentations with A/V support
Photography
Videographers